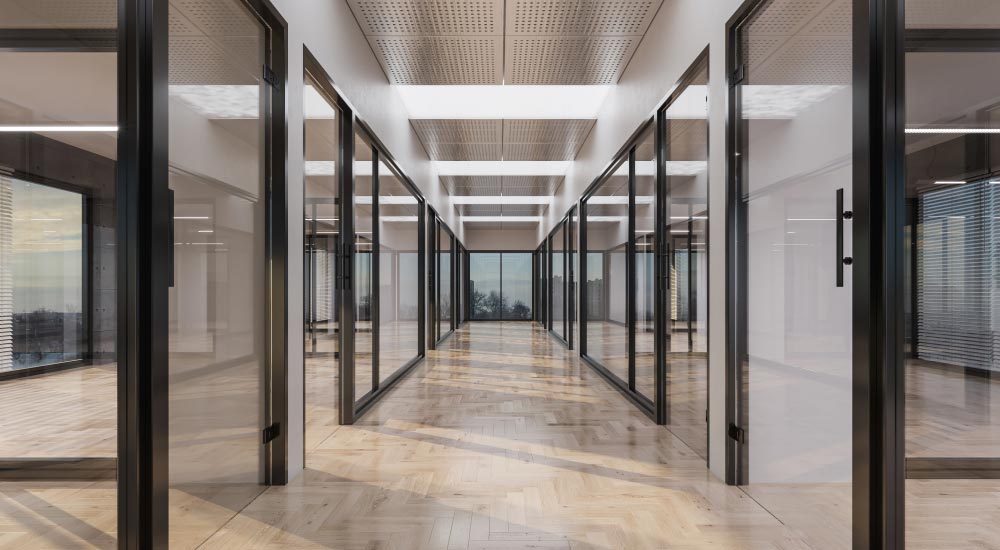 7 Types of Demountable Walls to Consider for Your Office Space
May 1st, 2022
Do you own an office building? Are you looking for a more convenient way to rearrange and reconstruct your space? If so, then you may want to consider the utility of demountable office walls. Also referred to as demountable modular walls or demountable partitions, these movable architectural walls allow for the ease of rearranging your office space.
As a result, you'll have ultimate flexibility. Imagine being able to conveniently dismantle, relocate, and reconstruct your walls anywhere, any time, and in any formation you see fit. Additionally, this advanced level of organization can be done quickly and without generating waste.
But at this point, you may be wondering: what types of demountable architectural walls are available? Fair enough. Keep reading to find out.
Double-Glazed Partition Walls
Typcially utilized in meeting rooms as well as offices, double-glazed partition walls offer a calm and quiet work environment. Weather you're having a classified meeting with superiors, or simply meeting a client, double-glazed partition walls will provide you with the privacy you need.
Closed Partition Walls
Modern, beautiful, and well designed, closed partition walls offer a myriad of benefits to your office space. Aside from the refined composition adding an undeniable sense of sophistication, closed partition walls are also affordable, take up less space, and can easily be constructed in almost any position.
Additionally, there are a myriad of different variations in regard to partition walls to choose from. They are as follows:
Reinforced brick partition wall

Nogging partition wall

Plain brick partition wall
Room-in-Room
Looking for a wall design that offers a little more uniqueness? Then the room-in-room demountable wall is right up your alley. Designed as a room to be constructed within your room, this is a rather distinct way of redeveloping your office space as it's both very eccentric and creative.
Moreover, it will speak volumes about your sense of originality and imagination. The room-in-room setup is not just a mere wall, it's a new and nolvel innovation that will not go unnoticed by others.
Acoustic Partition Walls
If privacy in terms of sound is important, then the acoustic partition wall is the right fit for you. With a near endless amount of design options, you can easily transport the wall to rearrange your whole space until it suits you.
And besides its varying shapes and sizes, it also comes in a plethora of different shades and tones, so you'll be sure to easily find one that matches the general atmosphere of your workplace.
Multifunctional Partition Walls
A demountable modular wall with a purpose, the multifunctional partition offers many levels of utility. It can act as a room divider, separating spaces in between an room to allow for privacy and improved working conditions. It can also serve as an acoustic barrier; deafening sound, or simply as a design piece to add character and personality to the area.
Fire Resistant Partition Walls
Fire resistant partition walls help with… you guessed it… fire safety concerns. Every business owner must ensure their work environment is regulated with the proper safety precautions in regards to such potentialities. And the fire resistant partition wall is an effective and efficient way to do exactly that.
Single Glazed Partition Walls
Superiorly designed and elegantly displayed, single glazed partition walls are stoic glass panes that act as dividers. They serve well by their capacity to open up your office space; allowing for the flow of air to envelop the environment. Usually produced to be ceiling to wall partitions, they can offer a unique sense of refinement and continuity to an office space.
Conclusion
Demountable walls are great not just for their convenience and versatility, but also for their design, character, and beautiful craftsmanship. For this reason, they are certainly a welcome addition to any office space looking to add a modern appearance to its decor. If that sounds like you, be sure to get in contact with us today to learn more.