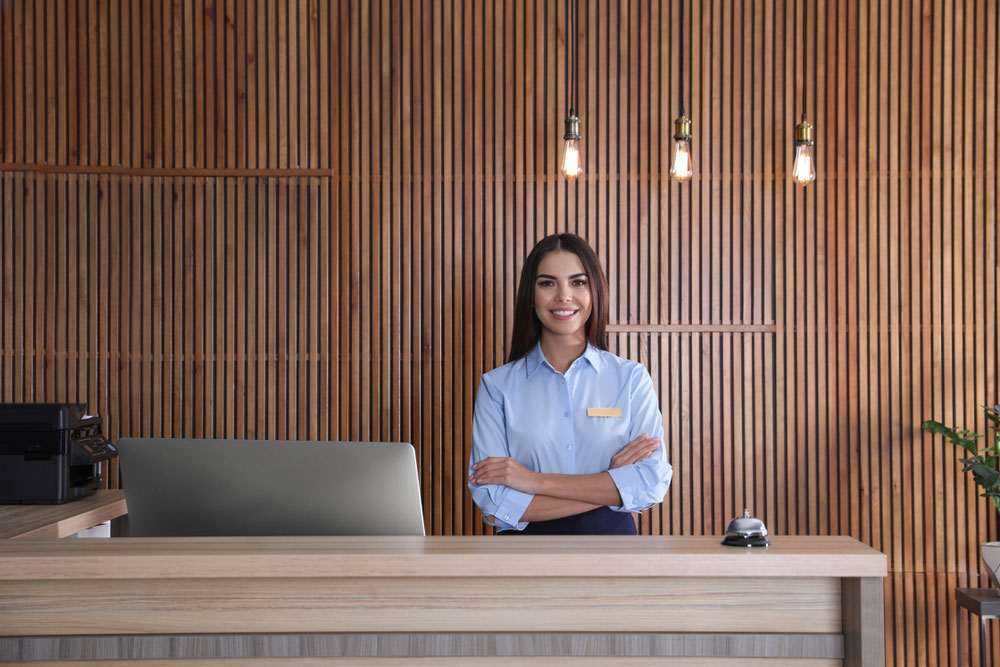 3 Essential Things to Keep in Mind When Buying a Reception Desk
July 3rd, 2022
First impressions matter. For this reason, your business needs to standout from the competition. And one of the best ways to ensure this outcome is to incorporate the appropriate reception desk. This simple and unassuming office furniture piece is often considered less important by many business owners. But on the contrary, your reception desk is essential as it is the "gateway" to your business.
It's one of the first things prospective customers see – and so it must make a good first impression. That's why we here at Alberta Office Furniture provide a myriad of high quality reception desks in Calgary, Edmonton, Fort McMurray, and other regions all over Alberta.
Consequently, if you're wondering what to look for when searching for a premium reception desk, we're here to help. Keep reading to learn the essentials of what to look for when buying a new reception desk for your office.
1. Space Availability
The scope and arrangement of your office can have a huge influence on how much space you allocate to your reception area. Nobody wants to be seated in an unpleasant, restricted space that makes them feel claustrophobic. For this reason, don't leave your visitors or receptionist feeling cramped due to a confined space with limited wiggle room.
A suggestion would be to make certain your reception area retains ample space prior to the purchase of your desk. Take a regular office chair, get the measurements of the reception desk, and put the chair behind it.
Once you're properly seated, you can then determine if you feel comfortable or not while sitting in that particular position.
2. Is it a Reflection of Your Business
When visitors come to your office, they instantly begin to form an opinion about your company. As such, you'll want to do all that you can to ensure you're giving off the right presentation. The pigmentation, emblems, and logos within your reception space should be indicative of the design and colours of your company. And guess what… So should your reception desk.
The reason being is that everything in your reception area is part of the "face" of your company. As a result, you want everything – especially your reception desk – to be a cohesive blend of what your business represents. And if this concept is lost on your desk selection, the discrepancy could be off-putting to customers.
3. The Types of Reception Desks Available
Of course, one of the most important considerations when purchasing a new office reception desk is the variations that are available. There are many options to choose from. Each with its own unique way of producing a unified and coherent office decor that represents your company's originality.
Consider the following desks for your reception area:
Reception Desk Unit: Designed to represent professionalism in the modern business world. The typical reception desk is used in countless business settings to welcome guests while also conveying a professional image.

Curved Reception Desk Corner Unit: If you want your office to have a little more style and presentation, the curved reception desk corner unit is a viable option. Its corner positioning in conjunction with its smooth and elegant curved design helps this reception desk standout from the others.

Modular Reception Desk: The modular reception desk seemingly has it all. Its appearance rivals that of a professional corporate office – but at a more affordable price. And its modern design is bolstered by its strong composition.
Final Thoughts
Your reception area is your welcoming impression to those entering your office. As such, it should come as no surprise how important it is to ensure it's up to par. And by taking the time to find the appropriate reception desk, you can be sure that you're leaving the right impression on every individual who walks through your office doors.
At Alberta Office Furniture, our expert team of interior designers, installers, and knowledgeable staff are here to meet your office furniture needs. Our services include everything from space planning and design services, packaged pricing and leasing options, as well as delivery and installations.
If you have any questions, be sure to contact us today or request a quote for your office project.